The Great South Bay Project
Buoy #1 - Real Time Data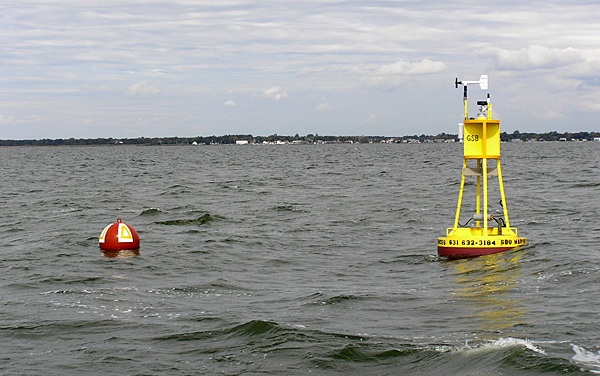 40o43.2187' N Latitude, 73o 05.6042' W Longitude
Date:
02-13-2016
Time:
12:30:00 GMT
Air Temperature:
-6.00 oC ( 21.20 oF)
Humidity:
72 %
PAR:
584.6 µEinsteins/m2sec
Wind Speed:
8.63 knots
Wind Direction:
from the WNW (303 o)
Wind Gust:
13.22 knots
Water Temperature:
0.24 oC ( 32.42 oF)
Salinity:
25.447 PSU
Chlorophyll:
0.96 µgrams/liter
Turbidity:
6.19 NTU
The buoy has been moved to the West Sayville Boat Basin
for the duration of the ice season.
It will be redeployed in its usual location in March.



Thanks to Mark DeAngelis and the West Sayville Boat Basin for their
assistance in launching the buoy and keeping the system going.